CHINA TRUCK INTERNATIONAL LTD.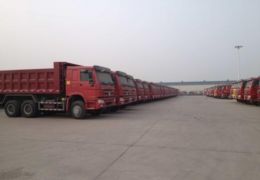 China Truck International Ltd. Is a refitted truck base of CNHTC in Jinan integrating R&D, production and sales of various special-purpose vehicles.
  Jinan Special Vehicle company predecessor-Jinan Garden Machinery Works was the domestic largest manufacturer of sprinklers at the earliest time, and was incorporated into CNHTC in 2005, removed to CNHTC Zhangqiu Industrial Park in 2007 and renamed as CNHTC Jinan Special-purpose Vehicle Co., Ltd. In 2007, and removed to the new factory at No. 17668, Panwang Road, Zhangqiu, Jinan in November 2010. The new factory covers an area of 360mu and a building area of 42, 000m2, and has 360 sets of various advanced equipment, and a staff of over 600 people including more than 60 professionals. Now, the company can yield 7, 000 dumpers and van vehicles and 3000 tank trucks annually, and will realize an annual production capacity of 15, 000 refitted vehicles in 2012.
  Relying on the CNHTC advantages in talent, technology an...
Details