QINGDAO QUEST VEHICLE EQUIPMENT CO., LTD.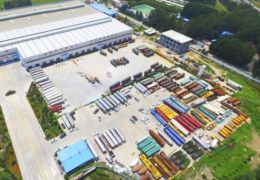 QINGDAO QUEST VEHICLE EQUIPMENT Co., Ltd is a growing enterprise in trailer manufacturing and HOWO truck, trailer parts and equipment distributing since 1999. QUEST VEHICLE is focused on becoming an international partner in modern transportation, dedicated to manufacturing industry-leading trailers and truck equipment to customers worldwide.
  Our slogan is WE BUILT TO LAST
  Because we care about every customer. Management philosophy is " Be honest&Don′t be greedy"We provide high quality goods and promote good after sales service because we care. This is part of our company culture and policy. That is how we BUILT TO LAST.
  Constantly growing and expanding into new markets in countries all over the world, QUEST centers its core business around trailer manufacturing, with products ranging from container semi trailer, low bed semi trailer, tanker semi trailer, tipper semi trailer, cargo semi trailer, draw bar trailer and various special vehicles. Since...
Details