Phoenix Heavy Industrial (China) Co., Ltd.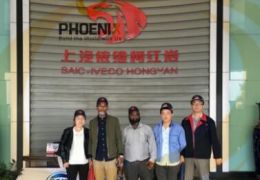 Phoenix Heavy Industrial (China) Co., Ltd. is one of China' s leading professional suppliers of heavy duty trucks and construction machinery, specialized in exporting BEIBEN truck, HONGYAN Iveco truck, SINOTRUK HOWO truck, DONGFENG truck, SHACMAN truck, road construction machinery, mining machinery, excavating machinery and other vehicles. We are also a professional used machinery provider for world-famous brands Caterpillar, Komatsu, Hitachi etc.

  (1) Honest Service is Your Best Protection


  We at Phoenix, always insist that honest service is the foundation of our long-term business cooperation. We are working hard to provide excellent quality products and honest service to all our global customers, so that we can contribute to a better life for our customers and for our world. We have already built an honest-service global network in Africa, South-America, Southeast Asia, Oceania and Europe. Our honest service never stops, we are focused on all the de...
Details