Newindu E-commerce (Shanghai) Co., Ltd.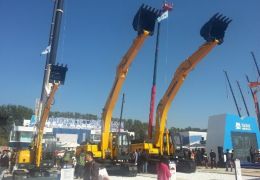 Newindu E-commerce (Shanghai) Co., Ltd. is a leading Chinese construction machinery exporter, located in the downtown of Shanghai City. Since our company was founded, based on the advantage of XCMG which is the No. 1 Chinese construction machinery manufacturer, we continually introduce Chinese excellent construction machinery enterprises and their products to international markets, such as Changlin, Zoomlion, LiuGong, HOWO, Shantui, HBXG, YTO, SDLG etc. We not only make more international customers know and approbate our products, but also gradually build up friendship with construction machinery customers all over the world.


  Our Strengths are as follows:
  (I) Seven years professional experience in international trading and rich knowledge in construction machinery & heavy equipment industry, which enable us to turn customer inquiries into final products and export them to numerous countries and regions without barriers;

  (II) A well educated and...
Details